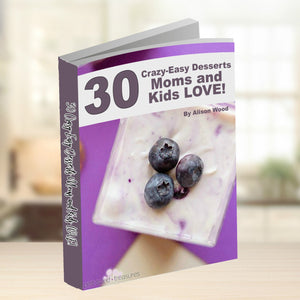 30 Crazy-Easy Desserts Moms and Kids Love
Regular price $ 6.99 $ 5.00 Sale
Every mom and kid has a sweet tooth that needs to be indulged sometimes, right?!
These 30 recipes are kid and mom-tested, easy to whip up and perfect for busy families like yours!
You'll love how oodles of these recipes don't even require an oven.
That's because we lived without one for six years in a tropical country and had to get creative! Those no-oven days helped us create super simple desserts that we could serve guests and enjoy on the weekends or even a holiday!
You know how to tell a recipe is a hit? People beg you for the recipe!
These are the same dessert recipes people ask me for over and over again!
Enjoy creating SWEET memories with your kids, guests or even your spouse on a date night.
You'll stop repeating the "I don't feel like making dessert" excuse.  Why? Because these decadent desserts are THAT easy!
Enjoy!
*This is a DIGITAL book. No product will be shipped to you. You will receive the digital book immediately upon purchase for easy and convenient reading!