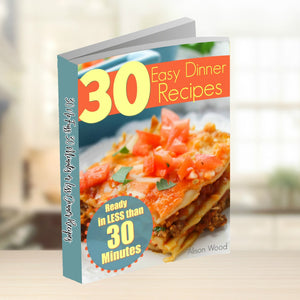 30 Easy Dinner Recipes --- Ready in 30 Minutes or LESS!
Regular price $ 4.99 Sale
Life gets crazy as a busy parent, right?
But your family still has to eat!
And when your family sits down to eat, they want it to be yummy!
No sweat!
These super simple recipes are amazingly good and create little mess in your kitchen.
Homemade with love, these recipes will make every family member smile!
We believe in feeding families food they love and creating memories around the dinner table. 
Go ahead and cut back on the stress levels in your life while keeping your crew fed with hearty, super yummy meals that are ready in 30 minutes or less!
Enjoy!
*This is a DIGITAL book. No product will be shipped to you. You will receive the digital book immediately upon purchase for easy and convenient reading!