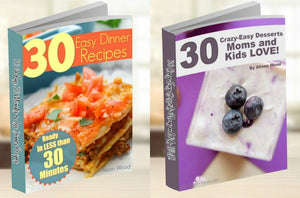 Easy Dinner and Dessert Bundle
Regular price $ 8.00 $ 5.00 Sale
BUDGET FRIENDLY CHOICE! 
Grab these two FAVE cook books that moms are using to stay sane!
30 Crazy Easy Desserts and 30 Easy, No Fuss Dinner Recipes that are ready in 30 minutes or LESS will be your best friend when life gets crazy and your family gets hungry!
These are super popular recipes that everyone wants to keep in their family cookbook.
Grab both books instead of purchasing separately and you'll enjoy a budget-friendly discount!
We want your family to enjoy meals together without stressing over the details!
Enjoy these yummy recipes and be sure to print and keep these recipes handy because someone WILL ask you for the recipe!
*This is a DIGITAL item. No product will be shipped to you. You will receive the digital book immediately upon purchase for easy and convenient reading!